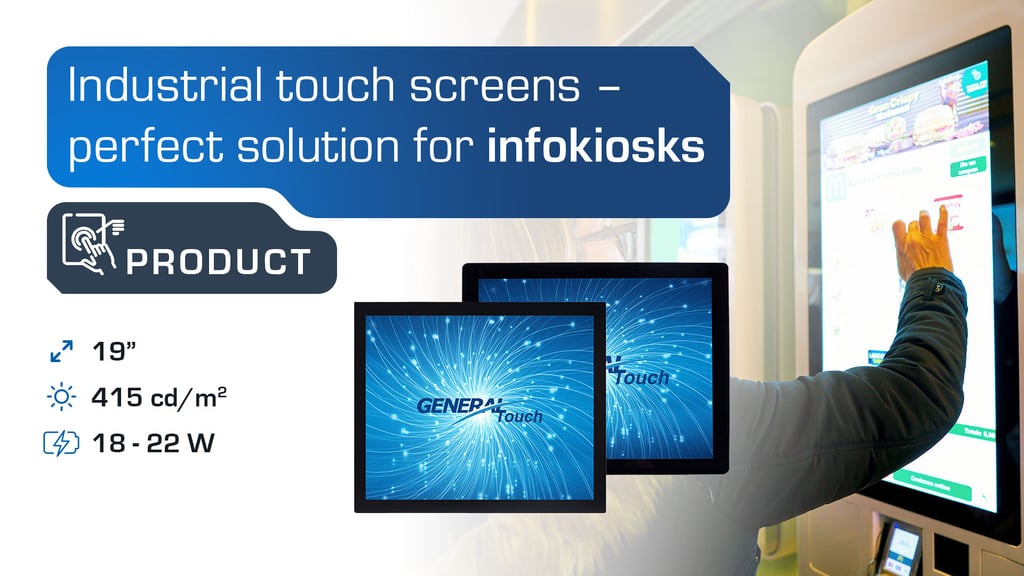 Unisystem offers versatile solutions from General Touch, a renowned leader in the tech industry. It specializes in providing advanced industrial display and monitor solutions, which translates into long product lifetime and unparalleled performance of the offered displays. These are universal products used in various sectors – from industry, through medicine, to gastronomy and retail. Importantly – they are available in versions with a built-in computer and HDMI interface, which makes those monitors easy to implement.
General Touch industrial monitors combine advanced technologies and innovative design. For two decades, the company has been offering products that work well in places where reliability and durability are crucial – such as production lines, industrial process management systems, as well as public places like infokiosks or points of sale. It is also worth adding that General Touch products have CE certificates, so our customers will not have to apply for additional certification in this regard.
What are the parameters of General Touch industrial monitors
An industrial monitor is an LCD-TFT display placed in a sealed enclosure, characterized by higher parameters, durability and reliability, as well as ease of use, which greatly facilitates the work of its operators.
One of the key parameters of General Touch industrial monitors is high resolution, which provides excellent image quality. These monitors also offer a full range of colors and wide viewing angles, which positively affects the readability of the information presented on screen.
In addition, General Touch monitors are known for their durability. They have been designed to withstand difficult industrial conditions such as humidity or vibrations. Their solid construction guarantees a long service life and reliability.
Their touch technology uses solutions based mainly on capacitive touch sensors, which allows for precise and reliable touch detection, even in difficult conditions (e.g. in work gloves).
In addition, General Touch industrial monitors offered by Unisystem stand out in low energy consumption (18-22 and 28 W), which is extremely important in the context of long-term use in industry. The low power consumption is partly due to the use of modern methods of controlling levels of screen backlight – the local dimming.
General Touch monitors are supplied in various formats, depending on the customer's needs – from smaller screens for retail, up to large panels used in more industrial applications.
The table summarizes the most important parameters of selected General Touch models from Unisystem's offer:
| | | |
| --- | --- | --- |
| parameter | model OTL195-RPCZ05-UHPCD | model OTL175-RC6000-UH5100 |
| size | 19" | 17" |
| resolution | 1280 × 1024 px | 1280 × 1024 px |
| active area | 376.32 × 301.06 mm | 341.92 × 274.32 mm |
| brightness | 210 cd/m2 | 415 cd/m2 |
| contrast ratio | 1000:1 | 1000:1 |
| viewing angles | 80°/80°/80°/80° | 80°/80°/75°/75° |
| interface | DP, DVI, HDMI, VGA, USB-B | HDMI, VGA, USB-B |
| module dimensions | 430.0 × 353.0 × 37.6mm | 380.00 × 317.50 × 59.60 mm |
| backlight | LED | LED |
| aspect ratio | 5:4 | 5:4 |
| operating temperature range | 0~40°C | 0~50°C |
| touch panel | yes, capacitive | yes, capacitive |
| enclosure type | closed frame | open frame |
General Touch industrial monitors applications
General Touch monitors are very adaptable and can be used in a variety of applications. Thanks to the built-in AD Board, it is possible to supply a video signal via HDMI, DVI, VGA or Composite interfaces. Common applications include:
infokiosks,
POS terminals,
industrial automation systems,
medical imaging diagnostics,
ducational multimedia workstations.
In the area of infokiosks, General Touch industrial monitors play a key role, offering an interactive and intuitive user experience. Thanks to the precision of touch screens, users can easily navigate complex interfaces and sort through available options. In such applications, open frame solutions are particularly suitable, i.e. those that can be mounted in the outline of a specific enclosure. Devices of this type in General Touch's offer are represented by models: OTL175-RC6000-UH5100, OTL196-RPC03-Z or OTL246-RC6000-UH4200.
Another solution are General Touch industrial close frame monitors, i.e. devices that are already placed in an enclosure and can be mounted e.g. on a pedestal: OTL175-RPCZ04-UCD-RPCZ04-UCD, OTL195-RPCZ05-UHPCD, OTL225-RC5A00-UH2200.
These monitors are also an excellent choice for POS (Point of Sale) applications. They are durable in everyday use, making them ideal for retail stores, restaurants and other places where fast and reliable customer service is essential.
Other applications include medicine, industry and education. In industrial automation, these monitors can serve as interfaces for controlling machines and devices, allowing operators to easily monitor and control production processes.
Possible use of General Touch industrial monitors includes the shopping malls, museums or other public spaces – as ticket machines or information boards. Thanks to their advantages, these monitors can greatly accelerate the operation process in those institutions, as well as improve the overall user experience.
General Touch offers also the high brightness models, which makes them the ideal solution for conditions open to direct sun or intense light sources, such as public transport, exhibitions or shops with large windows. Regardless of the application, the industrial monitors offered by Unisystem from General Touch guarantee the highest quality and reliability, which translates into efficiency and productivity.
2023-08-02
We're thrilled to connect with you in Gdańsk on the 15th of September 2023 at AmberExpo Gdansk, a central point of technology and innovation in Poland. This vital industry event … Meet Unisystem at TEK.day'23 Gdańsk! Read More »