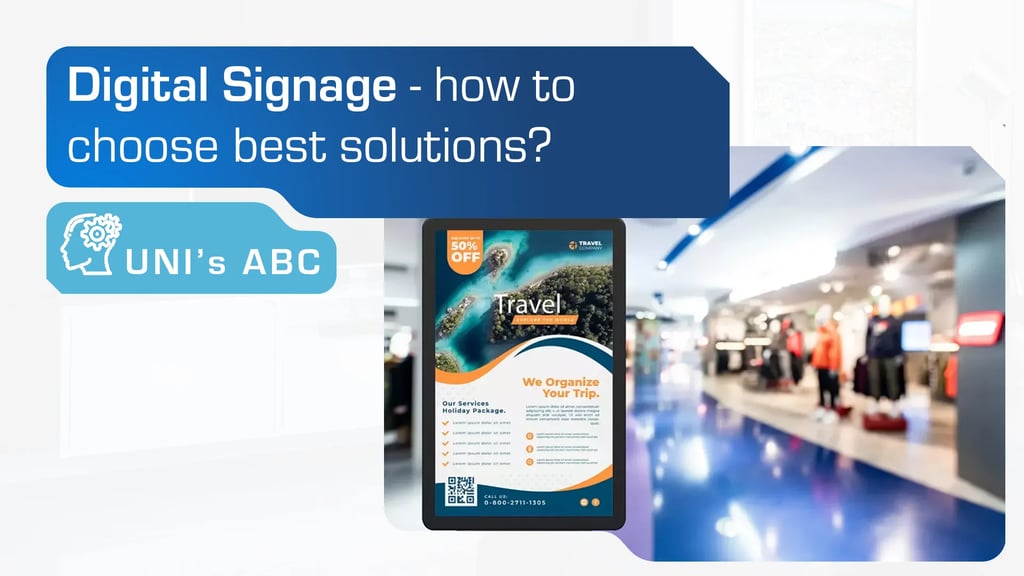 Digital signage, or digital message boards, advertising screens and advertising monitors, is now one of the most popular and widely used visual communication tools. They allow you to communicate valuable content to your audience in an attractive and engaging way. What solutions should you choose to maximize the potential of digital signage?
Digital signage – what is it?
Digital signage is a system for dynamic visualization of multimedia content on digital media such as LED screens, information displays, advertising monitors or projectors. It allows you to display, for example, advertisements, announcements or restaurant menus in real time, tailoring the message to your audience. Content is usually presented on advertising monitors, LED screens, interactive monitors, projectors, interactive whiteboards and even holographic projections.
Digital signage is not only advertising displays and attractive presentation of content, but also a tool that allows full control over what is displayed and when. Specialized software allows you to change the content on the screens in real time, matching messages to the time of day, audience or weather. This makes digital signage a flexible and versatile communication tool.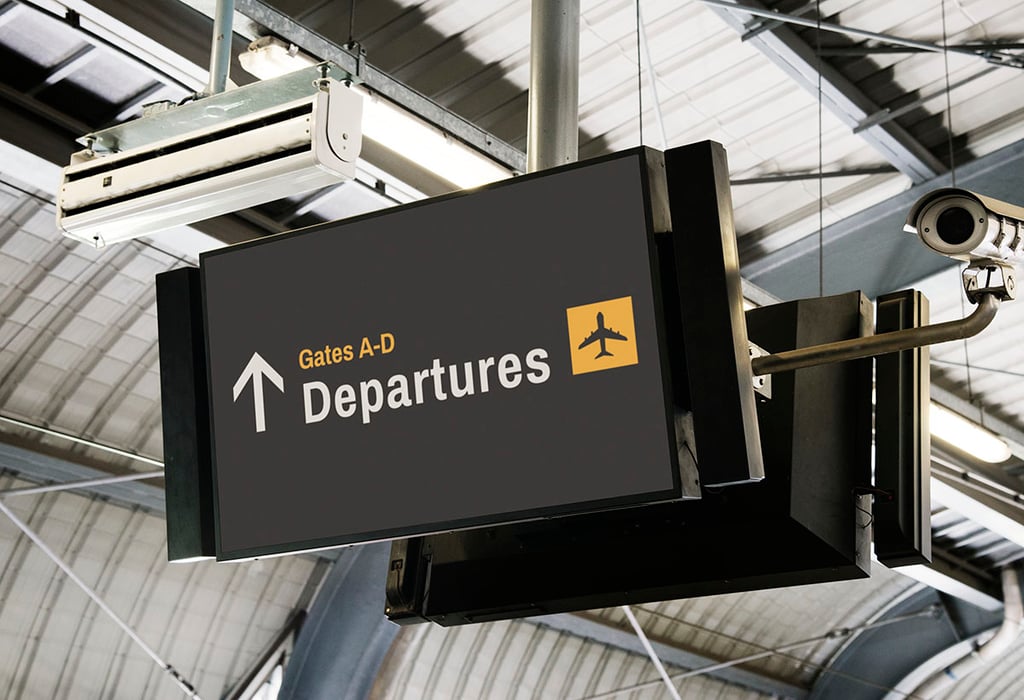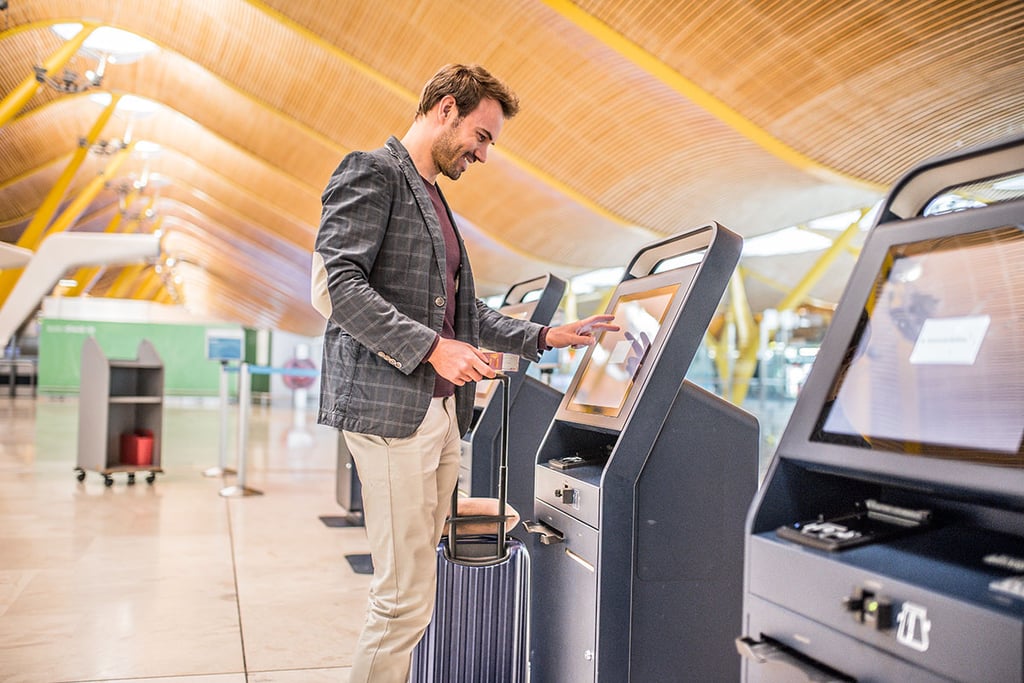 In what industries is digital signage used?
Outdoor and indoor digital signage monitors work well in many industries:
– In trade – to present special offers, promotions or product information. Stores use advertising screens, digital price tags, videos with offers or guides. It is common to see advertising monitors at checkout counters or advertising totems at store entrances. Read more about solutions for commerce from Unisystem here.
– In government – improves communication with citizens by displaying announcements, directing customer traffic or providing information about services. Multimedia information kiosks are becoming increasingly common.
– At airports and train stations – indispensable for informing passengers about the status of flights and trains. Huge video walls present timetables in an attractive form. Displays for transportation are also a specialty of Unisystem.
– In hotels – they are used to promote services, inform guests and increase sales in hotel restaurants. Both advertising monitors outside the facilities and information screens in lobbies or rooms are used.
– In office buildings and shopping malls – they are a modern element of design and visual identification of the object. Digital signage screens and signs with evacuation, maps or advertisements are now standard.
– At events – they work well as scenery and screen advertising steles. Both outdoor monitors and portable screens inside tents are used.
– In urban space – support communication with residents and tourists. More and more cities are betting on digital boards with information, transportation schedules or announcements. Here you can read more about smart spaces, i.e. smart home, smart office and smart city, and the solutions offered by Unisystem.
What are the advantages of digital signage in these applications?
Digital signage media are designed with 24/7 use in mind, making them ideal for marketing campaigns, conveying information, and even as elements of artistic and decorative arrangements. With the ability to update content remotely, digital signage systems are extremely flexible and allow for quick response to changing needs or unexpected situations.
What screen technologies are used in digital signage?
The most popular digital signage technologies are:
– LCD monitors – durable, energy-efficient, excellent image quality. They work well in indoor and outdoor systems. Available in multiple sizes.
LCD-TFT Displays are the most widely used data visualization technology in digital signage systems. With their reliability, high image quality and affordable price, they are ideal for indoor and outdoor applications. LCD-TFT displays offer excellent image quality, with high contrast and vivid colors. In addition, the proper selection of parameters, such as brightness or viewing angle, ensures excellent readability of the content presented on them even in unfavorable conditions, such as strong lighting or extreme temperatures.
– LED screens – bright image, vivid colors, resistance to outdoor conditions. Ideal for outdoor billboards and advertising banners. Modular design allows you to create custom shaped screens.
LED screens are another popular choice in digital signage. They are durable, energy efficient and offer bright, vivid colors, making them an ideal choice for large outdoor advertising displays. The LED screens are also resistant to various weather conditions, making them an ideal choice for outdoor applications.
– E-paper – low energy consumption, good visibility in sunlight. They are great for informational menu boards.
EPD displays, or electronic paper , is a technology that allows content to be presented in a way that resembles traditional paper. These displays are energy efficient, offer excellent readability even in strong sunlight, and are ideal for applications that do not require dynamic content changes, such as message boards and menu screens.
– Projectors – allow you to get large, bright images. Good for presentations at events.
– Touchscreen monitors – engage customers and encourage interaction. Often used in infokiosks.
In addition to those mentioned above, digital signage also uses other display technologies, such as OLED . The choice of technology depends on the specific application, image quality requirements, screen size, environmental conditions, and budget.
Selecting a screen for digital signage – what to pay attention to?
When designing and selecting components for a digital signage system, a number of issues should be taken into account, but it is worthwhile, first and foremost, to ensure that advertising screens and information monitors are attractive in form and location.
1. technical aspect
screen size and resolution – must ensure readability from an appropriate distance,
Viewing angle and brightness – affect visibility in different lighting conditions,
resistance to outdoor conditions – important for outdoor advertising screens and monitors,
opportunities for interaction and personalization of content – allow to better reach the audience,
The cost of purchasing and maintaining the system – you need to consider the company's budget.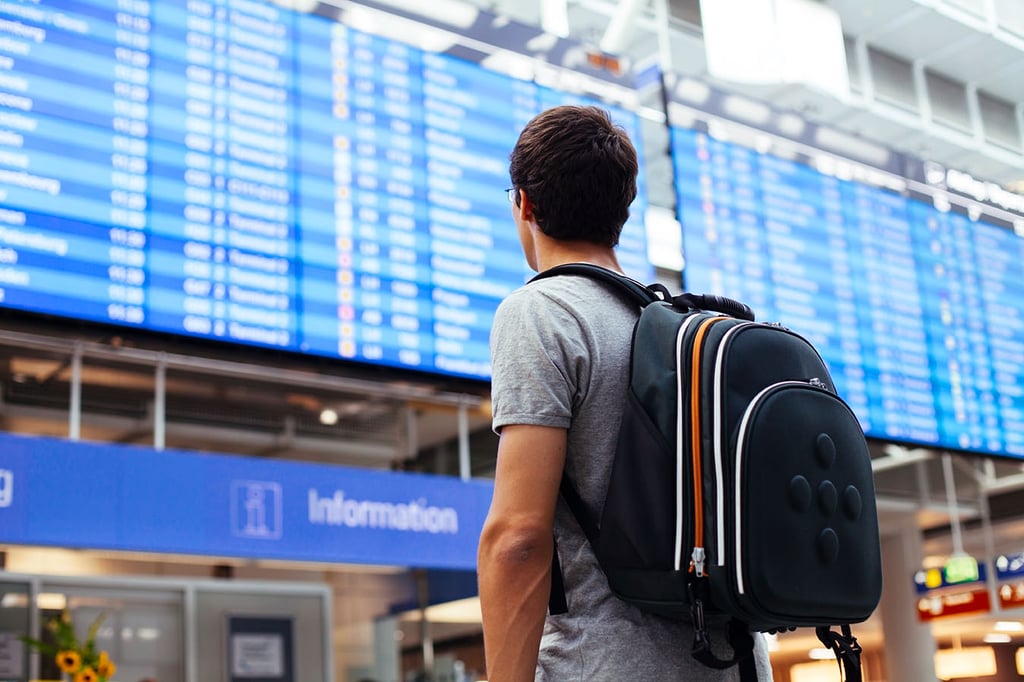 2. marketing aspect
Choosing the right screen for a digital signage system is not only a technical issue, but also a marketing one. The screen must attract attention while blending harmoniously into its surroundings. The size of the screen, its shape, resolution, brightness, viewing angle – all have an impact on the effectiveness of the message. Also worth noting are the ability to personalize content, remotely manage the system, and interactive features that can increase audience engagement.
3. maintenance
When selecting a screen for a digital signage system, it is also worth paying attention to maintenance aspects. The screen must be robust and reliable to ensure that the system continues to operate in 24-hour operation. In the case of outdoor screens, they must be resistant to weather conditions such as rain, snow, sun and wind.
Besides the screen, what makes up a good digital signage system?
In addition to screens, monitors and advertising displays, you need:
Content management and broadcast software,
servers and media players for storing multimedia materials,
LAN or Wi-Fi network for data transmission,
infrastructure and cabling.
The entire system must work cohesively to ensure reliable digital signage operation. Regular servicing and maintenance of the equipment is also important.
What is the future of digital signage?
The future of the digital signage industry looks promising and will gain importance in marketing. Developments in technology, such as artificial intelligence, data analytics and facial recognition, are opening up new opportunities for the industry. We can expect increasingly personalized and interactive solutions that will further engage audiences and provide them with valuable information in an attractive and innovative way. As technology advances, digital signage systems will be increasingly integrated with other technologies such as the Internet of Things, Big Data and mobile technologies to create even more advanced and effective communication systems.
They will make use of, among other things:
Artificial intelligence and facial recognition for ad targeting,
Motion, gesture, voice sensors to engage audiences,
Internet of Things and mobile technologies for greater functionality,
Advanced data analysis to optimize advertising campaigns.
However, digital signage is already an effective tool for communicating with customers in stores, hotels, offices and many other places. Companies investing in advertising screens and information displays can expect a return on investment. That's why it's worth implementing them in your company to improve customer service and increase sales.
We hope this article has helped you better understand how to choose the optimal solutions for your business. Want to learn more technical details and explore the topic in more depth? Check out the range of solutions Digital Signage from Unisystem . If you have any questions, we are here to help!
2023-08-11
Light plays a key role in our lives. It allows us to see the world around us. However, we don't always realize that light is a complex physical phenomenon that … What measures describe light? Read More »