Industrial displays are an indispensable part of the systems that enhance our lives and work, which is why it is so important that the screens around us are adapted to the operating environment of the end devices and to the requirements of their users. Industrial displays for outdoor applications present design challenges primarily in terms of durability, resistance to weather conditions (sometimes extreme) and image quality that provides excellent readability in full sunlight and from any vantage point. That's why it's a good idea to take a close look at what factors should be considered when choosing displays used outdoors, outside of buildings.
When selecting a display for use in a device that will operate in the field, it is necessary to pay attention to many detailed parameters and anticipate the most important risks to which the screen will be exposed. In the article, we will present those areas and parameters on which you should focus your attention when looking for solutions tailored for a specific outdoor application. These are the aforementioned working environment (rain, frost, heat, sunshine, sand, dust), adequate readability of the presented content, reliability (24/7 operation), energy efficiency (when constant access to power is uncertain or impossible), robustness (resistance to vandalism), durability (for many thousands of users in public places), and the ability to easily service the devices. Choosing the right display can be crucial to the success of a project or investment. Therefore, it is worth taking the time to analyze the available options and choose the model best suited to the specified requirements.
Resistance to extreme weather conditions
When we talk about industrial displays for outdoor use, the first thing we need to focus on is their weather resistance. Extreme temperatures, both low and high, strong sunlight, humidity, dust or UV radiation are all challenges for traditional displays that can determine their lifespan. Industrial displays must therefore be designed and manufactured to withstand these harsh conditions. This means using specialized materials and technologies, such as TFT LCD matrices equipped with hi-TNI technology, which ensures that liquid crystals are protected from sunlight damage.
The implementation of LCD-TFT displays in outdoor applications requires a number of factors to be taken into account to ensure proper operation in various weather conditions. A key parameter is the wide operating temperature range, which for many models of this type is specified in the range of -20 to 70°C and even -30 to 85°C. In extreme temperatures in the field, additional components such as heaters or fans located in the end unit housing may be necessary to maintain optimal temperatures for electronic components.
In addition, any electronics intended for use in the outdoors must be properly protected from potential contaminants such as dust, dirt and water. This is achieved by placing the equipment in suitably sealed enclosures, whose protection level
is determined by IP codes in accordance with PN-EN 60529. Implementing additional barriers, such as seals, is one of the primary ways to secure screened modules. For example, the IP65 code means that the housing provides protection against the ingress of any dust, and to some extent water. Devices operating in the harshest environments may require protection at the highest level described in the standard, i.e. IP69 – this type of housing is completely dust- and waterproof. Devices protected in this way can also be washed with high-temperature water (+80°C) under high pressure (80-100 bar). Another way to impregnate electronic components is to varnish them with special electro-insulating preparations, which can protect components from temperature, chemicals, dust or moisture. Moreover, this solution can increase the life of the device, as it reduces the risks associated with corrosion, short circuits, or dendrites.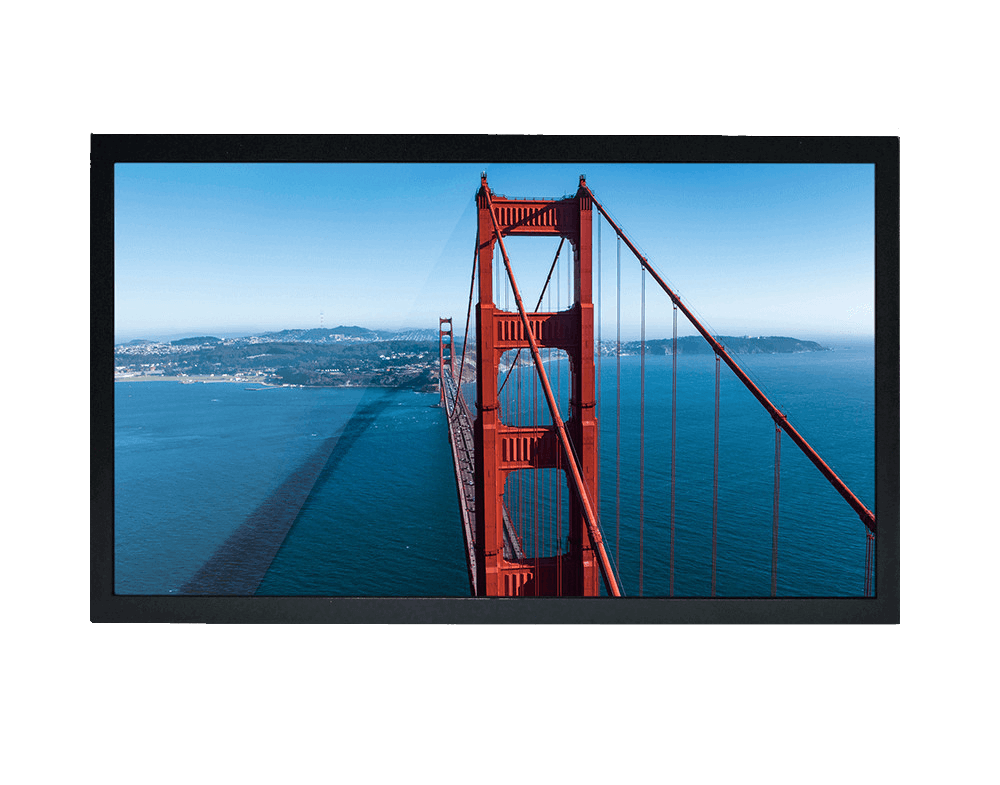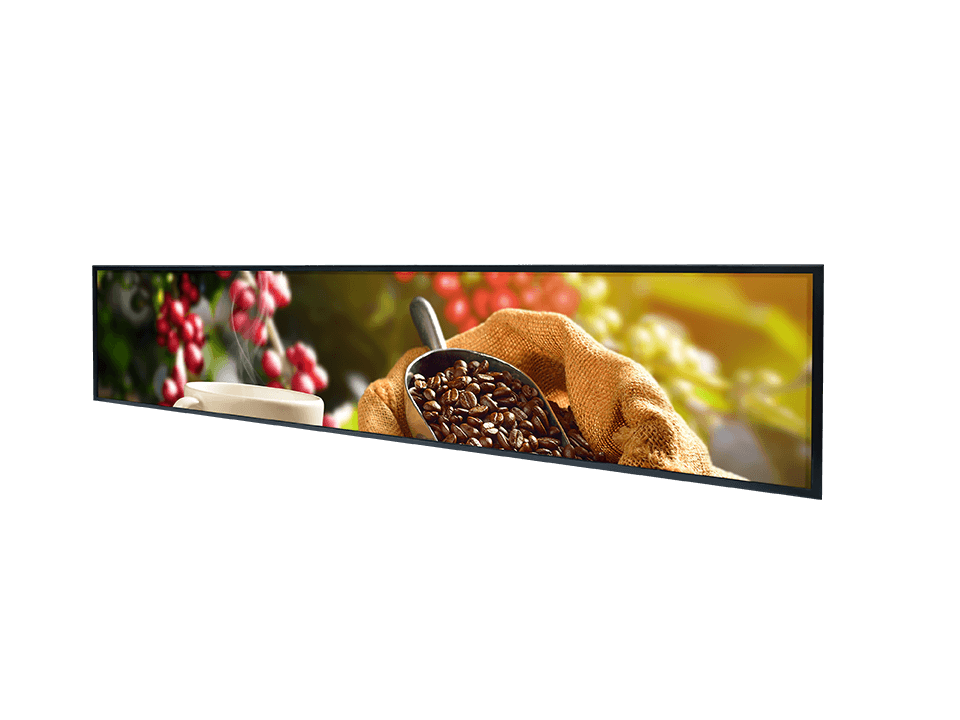 Excellent optical performance
If we talk about displays, we can't forget about optical parameters, which are crucial for image quality. Industrial displays for outdoor applications must have excellent performance, such as high contrast, brightness and wide viewing angles. Why is it so important? All because of the fact that these displays need to ensure image readability even in strong sunlight. Then the key is to choose the right brightness – at least at 1500 cd/m2, and ideally 2500 cd/m2 and above. TFT LCDs may need to use products with the hiTNI technology mentioned earlier. Interestingly, it is possible to use lower brightness modules for OLED displays, as these screens are distinguished by very high contrast, which ensures very good readability even in direct sunlight.
In addition, coatings applied to the surface of the screens, such as anti-reflective (AR) or anti-glare (AG) coating, can improve the user experience by reducing glare. The use of different combinations of antireflective layers enables the reduction of reflectivity to 2%.
Also important will be the full viewing angles (achieved with the use of IPS matrices or in the aforementioned OLEDs), allowing the content on the screen to be read from any plane. At the same time, it is worth mentioning that in the case of the planned use of IPS matrices with polarized glasses, it will be necessary to equip the matrices with circular polarizers (C-POL) so that the content on the screen can be seen with polarized glasses.
Simple operation and maintenance
Operation and maintenance of industrial displays are other important issues. These devices should be designed to be simple and intuitive to use and easy to service. This makes it possible to minimize maintenance costs. It's also crucial for optimizing production processes and maintaining business continuity.
When it comes to operating the display, the most reliable and versatile way to interact with the screen today will be to use capacitive touch sensors, which are designed for heavy use. When doing so, it is important to remember to adjust their parameters (i.e., tuning the controller) so that the display can be operated under unusual conditions, i.e. With raindrops on display (water rejection mode), at
dusty, wearing gloves, or in palm rejection mode, which detects the presence of objects on the screen surface.
Maintenance and servicing of displays working outdoors should be easy, but it is best to select components so that interfering with the end device is not necessary. Some LCD-TFT displays used in digital signage systems are designed to operate around the clock, requiring 24/7 continuous operation mode. In such cases, the key parameter is the LED lifetime, which determines the average period of trouble-free operation of the LEDs that form the backlight in LCD displays. There are solutions on the market for which this parameter is specified even at the level of 100,000 hours. Under the right conditions, such displays can operate trouble-free for at least several years, and even up to 10 years.
Safety first
User safety is a key aspect in the design of outdoor displays, which must be resistant to various types of damage and vandalism. Features such as surge protection, shock protection and fire suppression systems may additionally be required. Each touch-sensor module is protected by protective glass, which provides resistance to mechanical damage. Usually, in order to ensure adequate protection of the module, it will be sufficient to use glass with a thickness of 5 mm – for this type of solution it is possible to achieve a degree of resistance to mechanical loads at the level of IK08 according to the guidelines of PN-EN 62262. In addition, an anti-shatter (AS) coating can be applied to prevent the spread of glass shards from a broken module.
For devices operated by thousands of people, such as self-check-in points at airports, an anti-microbial (AM) coating is recommended to reduce the possibility of multiplying microorganisms applied to screen surfaces by users. Its effectiveness is determined to be at least 99.9%. In addition, an anti-fingerprint (AF) coating can be applied to reduce the possibility of dirt sticking to the screen surface.
Examples of outdoor display applications
LCD-TFT displays are widely used in outdoor devices. They are a key component of passenger information systems, including interactive timetables, as well as signage leading to the correct stops or stations. In public places, size and reliability of the display often matter, and AUO's products, such as the 46-inch LCD-TFT display (model P460HVN05.0), which offers high contrast, brightness and resolution, will excel at this.
Passenger information, updated in real time, is vital to any journey, generating demand for dynamic content visualization. Here it is worth considering the use of displays with e-paper technology (EPD), which is energy-efficient and can serve as a substitute for paper timetables. E-paper-based solutions that can be successfully used as timetables, for example, are the USEC and USEM modules designed by Unisystem engineers.
On the other hand, properly calibrated LCD displays with touch functionality will find use as ticket machines or parking meters, where control and a user-friendly interface (GUI) will be essential.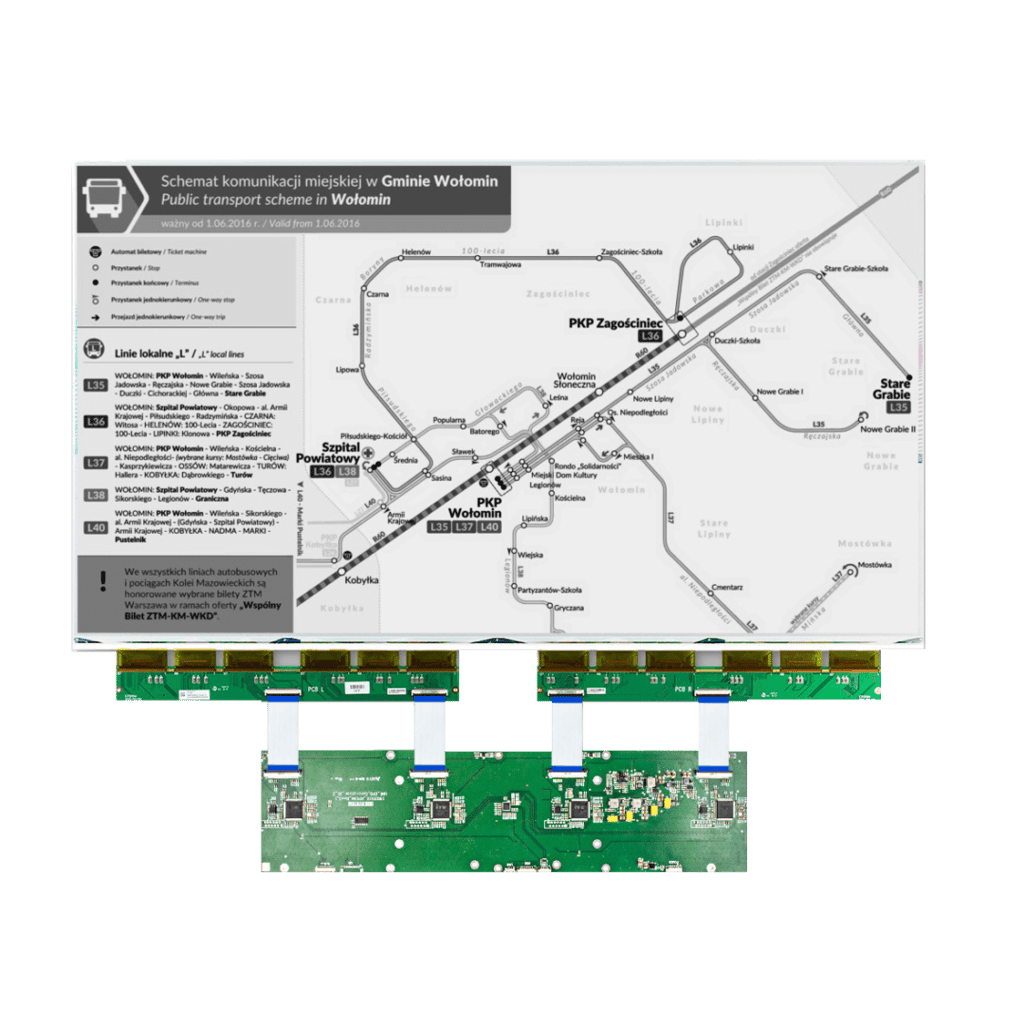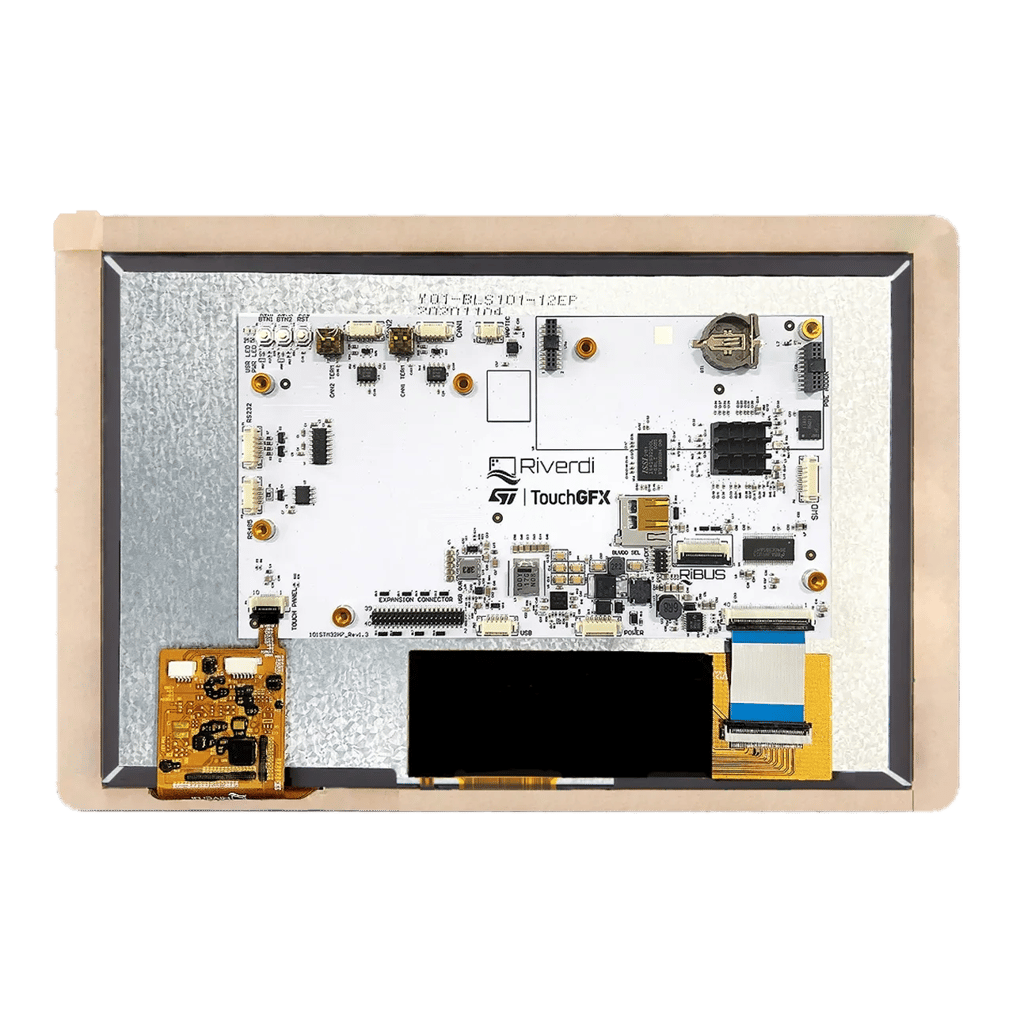 In this case, we recommend the solutions of the Polish company Riverdi, which, thanks to the use of the STM32 microprocessor, allows easy and versatile design of graphical interfaces (we recommend the ten-inch model RVT101HVSNWC00-B with exalted optical parameters).
The same is true of applications in the now popular pick-up and drop-off machines, as well as in digital signage kiosks in open-air public places, for which we can recommend Durapixel products from Litemax, which can be controlled so that the screen brightens during the day and operates in a sparing backlight mode at night.
In addition, the displays are indispensable in devices that support the operation of systems such as photovoltaics and electromobility. In electric vehicle (EV) chargers, the durable products from Litemax's Spanpixel series, whose LED lifetime reaches 100,000 hours, will work well.
When it comes to displaying simple but perfectly readable data on small-sized screens, it is definitely worth taking advantage of the performance offered by OLED technology, such as Winstar's ultra-high-contrast Longlife series OLED graphic displays (we recommend model WEA025664ALAP3N).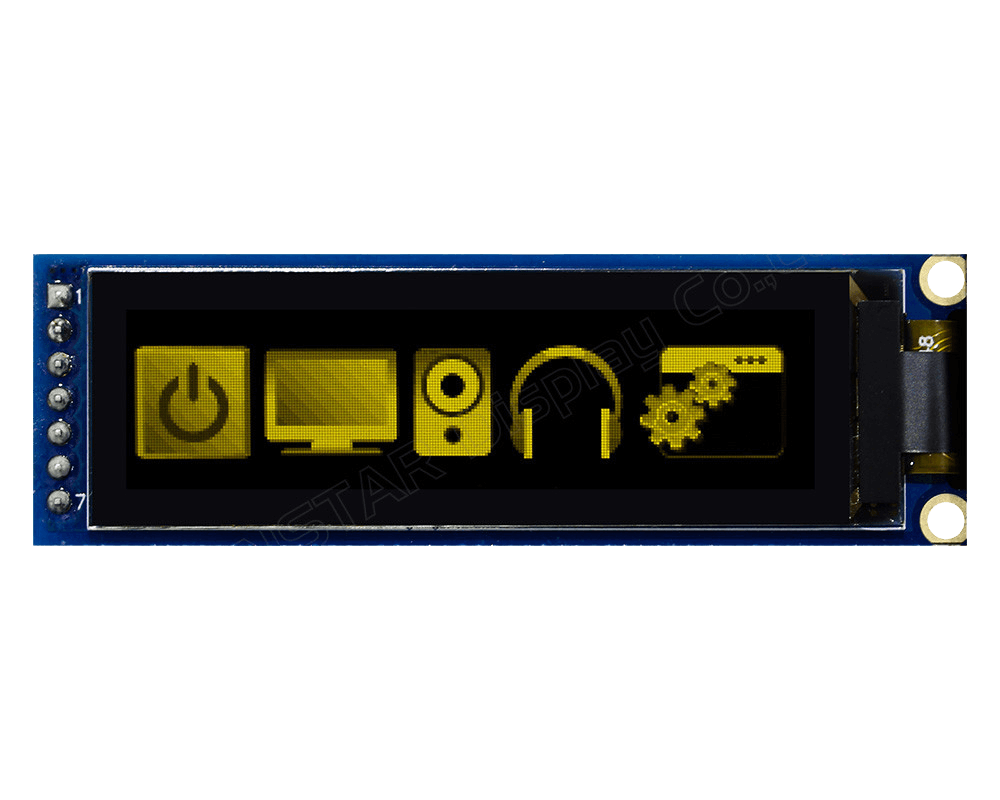 Summary
Outdoor industrial displays are a technology that plays a key role in many sectors. When choosing such a device, it is worth considering various factors – from weather resistance, to optical performance, to ease of operation and maintenance. Energy efficiency and safety of use should not be forgotten either. Choosing the right display is a decision that can bring numerous benefits – from increasing operational efficiency, to reducing maintenance costs, to improving security. Remember, however, that this decision should be well thought out and based on a solid analysis of the available options. When choosing an industrial display for outdoor applications, it is worth consulting experts in the field and getting support in making the best choice.
==
Radoslaw Pyter
Head of Sales Poland – Unisystem
2023-08-11
Light plays a key role in our lives. It allows us to see the world around us. However, we don't always realize that light is a complex physical phenomenon that … What measures describe light? Read More »